North Carolina Museum of History, 5 East Edenton Street in Raleigh, is free to visit. It's open every day, with the following hours:
Monday–Saturday: 9:00 a.m. to 5:00 p.m.
Sunday: Noon to 5:00 p.m.
Closed New Year's Day, January 2, Easter, Thanksgiving Day, Christmas Eve, and Christmas Day.
Some of the current exhibits:
The museum hosts a number of events every month. You can see the full list here. Some are free and some have a fee. Here are some of the upcoming free events:
Taking Off! North Carolina Flight and Fliers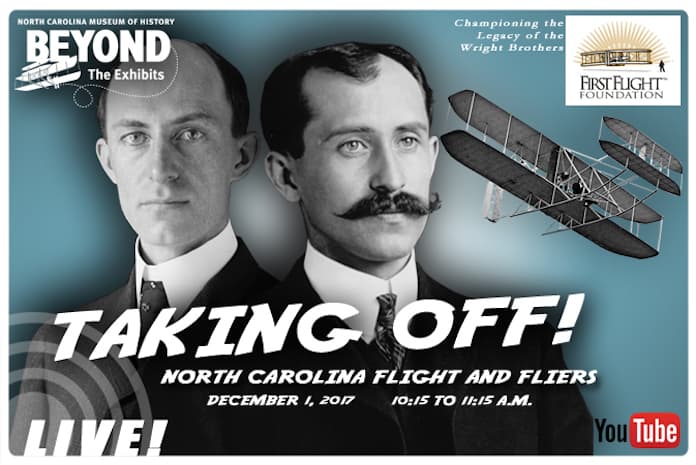 Friday, December 1, 2017/Time: 10:15 to 11:15 a.m.
First in flight and more! Travel through the museum with special guest Darrell Collins, who spent decades speaking to thousands of students about flight and fliers as an interpreter and historian at the Wright Brothers National Memorial. See a full-size replica of the Wright brothers 1903 flyer and learn about other North Carolina fliers. Sponsored by the First Flight Foundation, Championing the Legacy of the Wright Brothers.
First Fridays at the Museum: Celebration of Flight!
Speaker: Darrell Collins, Wright Brothers National Memorial
Friday, December 1, 5 p.m. to 9 p.m.
Collins is a lively speaker and eagerly shares stories of early aviation in North Carolina. After his talk, make your own paper airplane, then try it out inside the museum's three story atrium!
Starting at 5 p.m., Double Barley Brewing will be in the museum's lobby, providing free samples, as well as selling pints and six packs.
World War I Film Series: A Little Princess (1995)
Sunday, December 3, 2 p.m.
This critically acclaimed, and Oscar-nominated, family film features a girl, raised by her father in British colonial India until the outbreak of WWI, who experiences change after her father is mistakenly declared dead, a casualty of combat. Critic Roger Ebert called this version of the movie "a magical family film." This is one in a monthly series of films meant to help interpret some of the scope and complexity of the Great War.
MPAA rating: G; run time: 97 min.
Note: A simulated battlefield environment—including bright lights, flashing lights, and loud noises—in this exhibit may be disturbing to children or visitors with health concerns. In addition, some images may not be suitable for some visitors.
When
December 1, 2017 @ 10:15 am
Where
North Carolina Museum of History
When
December 1, 2017 @ 5:00 pm-9:00 pm
Where
North Carolina Museum of History
When
December 3, 2017 @ 2:00 pm
Where
North Carolina Museum of History