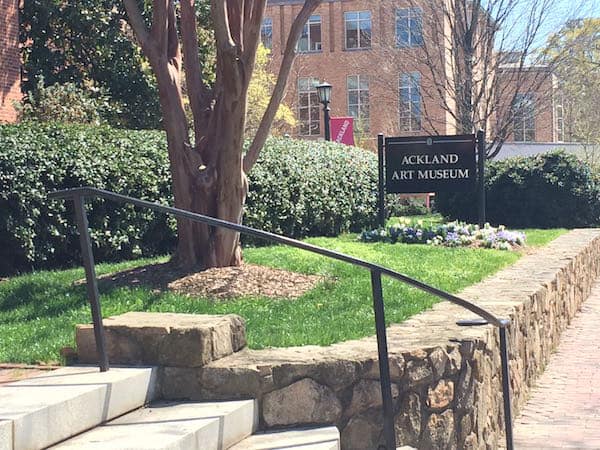 Ackland Art Museum, on the University of North Carolina campus, at 101 South Columbia Street, is always free to visit. Its permanent collection consists of more than 17,000 works of art, featuring North Carolina's premier collections of Asian art and works of art on paper (drawings, prints, and photographs), as well as significant collections of European masterworks, twentieth-century and contemporary art, and North Carolina pottery. The Ackland organizes more than a dozen special exhibitions a year.
In addition, Ackland Art Museum presents many events. Some have a small cost associated with them and some are free. You can learn about all of their events and programs on their website, but here's a list of some upcoming free programs.
Drawing in the Galleries
2nd Saturday of the month, 10 a.m.
The second Saturday of every month, Amanda Hughes leads participants in a creative exploration of a particular object in the Ackland's collection. For all sessions, bring paper and dry media (crayon, pencils, etc.). All levels are welcome. Free and open to the public. No reservation necessary.
Family and Friends Sunday: The Beautiful Brain–Inside and Out
Sunday, February 24th, 2019
2 p.m. to 5 p.m.
Free
Art lovers of all ages are invited to join us for a special Family and Friends Sunday inspired by the Ackland's current exhibition The Beautiful Brain. The afternoon will feature a matinee screening of Disney's Inside Out (2015) and an "Ask a Neuroscientist" table with scientist-artists from the UNC Neuroscience Center whose art is featured in The Beautiful Brain.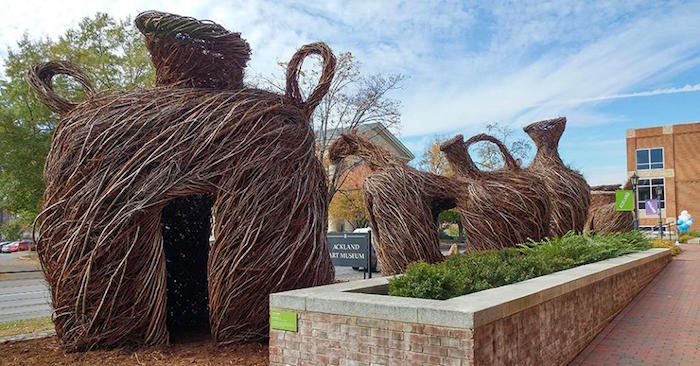 K-12 Educator Open House
Thursday, February 28th, 2019
5:30 p.m. to 7;30 p.m.
Free, but registration required
Explore The Beautiful Brain: The Drawings of Santiago Ramón y Cajal exhibition and the Ackland's collection during this special evening for educators! Engage with area educators and Museum staff in conversation about the art, enjoy light hors d'oeuvres, and take a tour of the exhibition. Participants will leave with teaching ideas to use in the classroom or in the Museum. All grade levels and disciplines welcome!
*Free parking is available on a first-come, first-serve basis behind the Museum in the Porthole Alley Lot. This lot may be accessed via the driveway in-between the Museum and the Top of the Hill Restaurant on Columbia Street.
2nd Friday ArtWalk–The Beautiful Brain: Forging Connections Between Art and Science
Friday, March 8th, 2019
5 to 6:15 p.m.
Free
Santiago Ramón y Cajal's discoveries paved the way for remarkable breakthroughs in neuroscience in the early 20th century. Join us for an intriguing discussion exploring intriguing questions about the brain, current developments in neuroscience, and the influence of sociocultural factors on the brain and human behavior. With Margaret Sheridan (Assistant Professor in Clinical Psychology in the Department of Psychology and Neuroscience), Patrick Harrison (Teaching Assistant Professor in the Department of Psychology and Neuroscience), Cassie Hamrick (Durham-based Art Therapist), and Hillary Rubesin (Director, Art Therapy Institute of North Carolina). Co-presented by Stigma free Carolina: Redefining Mental Health.
Music in the Galleries: Brain-Inspired Dance, choreographed by Killian Manning
Sunday, March 24h, 2019
2 p.m. to 4 p.m.
Free
Inspired by the contemporary images of the brain featured in The Beautiful Brain, SITES Choreographer Killian Manning has planned an interactive afternoon of site-specific, art-inspired dance in the galleries. Visitors of all ages will be invited to join five dancers in movement and dance in response to the art on view. This family-friendly event is a cross-over between our popular Music in the Galleries series and Family and Friends Sunday.
Manning's dance is set to music by Spanish composers contemporaneous with Cajal, as well as contemporary Spanish works. She also incorporates texts from Cajal's dream journals.
2PM: Dance performance
2:30 PM: Family and Friends participatory dance
3:30 PM: Dance Performance
When
Monthly on the 2nd Saturday @ 10:00 am-12:00 pm (starting August 11, 2018)
What
Drawing in the Galleries
Where
Ackland Art Museum, Chapel Hill
When
February 24, 2019 @ 2:00 pm-5:00 pm
What
Family and Friends Sunday: The Beautiful Brain (including screening of Disney's "Inside Out")
Where
Ackland Art Museum, Chapel Hill
When
February 28, 2019 @ 5:30 pm-7:30 pm
What
K-12 Educator Open House
Where
Ackland Art Museum, Chapel Hill
When
March 8, 2019 @ 5:15 pm-6:00 pm
What
2nd Friday ArtWalk–The Beautiful Brain: Forging Connections Between Art and Science
Where
Ackland Art Museum, Chapel Hill
When
March 24, 2019 @ 2:00 pm-4:00 pm
What
Music in the Galleries: Brain-Inspired Dance, choreographed by Killian Manning
Where
Ackland Art Museum, Chapel Hill