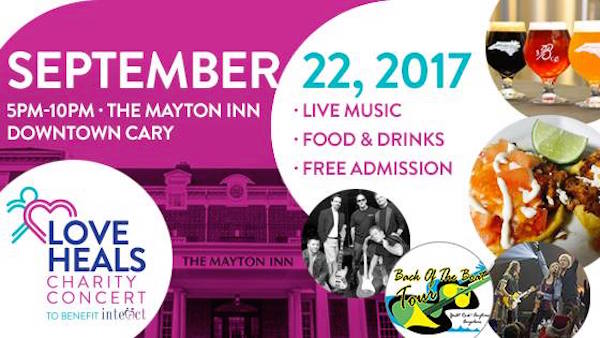 Love Heals Charity Concert will take place at The Mayton Inn, 201 South Academy Street, Cary, on Friday, September 22nd, 2017, from 5 p.m. to 10 p.m.
The concert is free. It's a fundraiser for InterAct, a nonprofit that provides safety, support and awareness to victims and survivors of domestic violence and rape/sexual assault. A silent auction, offering offering vacations and getaways, restaurant gift cards, spa packages Durham Bulls tickets, a Jeff Skinner autographed photo, free gym memberships, and much more, will benefit the organization, as will a portion of the food and drink sales. Donations are appreciated as well.
Bring a lawn chair.
Music:
To purchase a VIP table or seat for the event, contact girlwlegs@gmail.com.The VIP experience includes covered seating and catered food and drinks.
Bond Brothers Beer Company will be serving craft beer.
Food trucks will be on site, including:
Grande Taco
Wingskis
Big Mike's BBQ
Flirting with Fire
Fetch Hot Dogs
BR Cuisine
Chirba Chirba Dumpling
The stage will be set up behind the Mayton Inn, and the silent auction inside of the venue.