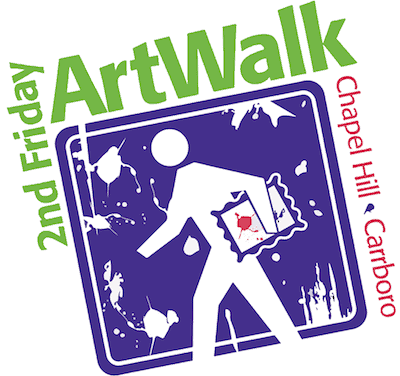 The second Friday of every month, from 6 p.m. to 9 p.m., head to Chapel Hill and Carrboro for an ArtWalk. Experience live music, food, activities, hands-on art demonstrations, discounts, and more. Download a map to help make sure you don't miss anything. 27 venues are highlighted on the map, everything from the Ackland Art Museum at UNC to Open Eye Cafe in Carrboro.
The next next ArtWalk takes place Friday, August 10th, 2018. Learn more about these events and venues on the 2nd Friday ArtWalk page.
2nd Friday ArtWalk events and activities are free and open to all.
Here are a couple of the events going on August 10th. Check back soon for more.
Más allá de las estrellas / Beyond the stars at The ArtsCenter
Friday, August 10, 2018
6:00 PM 9:00 PM
The ArtsCenter
Paintings by Renzo Ortega
Opening Reception: Friday August 10th, 2018
From 6:00 pm to 8:00 pm
Exhibition on display in the Nicholson Gallery and ArtsCenter Corridor from August 1st – 31st.
This exhibition is supported by the Orange County Arts Commission Artist Project Grant.
Fiber Artist Jean Wipperman at WomanCraft Gifts
Friday, August 10, 2018
6:00 PM 9:00 PM
Womancraft
Meet local fiber artist, Jean Wipperman, during Womancraft's 2nd Friday celebration in Carrboro on August 10, 2018. Jean has a passion for joining her craft with function that supports wellness and personal health and well-being. Her "fiddly quilts" combine color, texture and tactile elements designed to sooth those dealing with dementia, Alzheimer's, autism, restlessness, etc. Her felted purses are tactile, calming and stylish!
Come and meet Jean, learn more about her passion and techniques . . . and have a snack and a splash of wine, too.
Pop-Up Bar, The Outwin, and More at Ackland Art Museum
Friday, August 10, 2018
6:00 PM 9:00 PM
Ackland Art Museum
Come explore The Outwin: American Portraiture Today during Ackland's monthly evening hours. Enjoy a cold craft beer from Top of the Hill's new pop-up bar at the Museum!
Every second Friday of the month, the Ackland participates as a venue in the Chapel Hill-Carrboro 2nd Friday ArtWalk, staying open until 9:00 PM and offering a variety of interactive, all-ages activities in addition to all exhibitions being open to visitors. Admission is free.
"Scientific Expressionism" at Carrboro Town Hall
Friday, August 10, 2018
6:00 PM 9:00 PM
Town of Carrboro
Mathematical and expressive interpretations of physical senses: Join us in celebrating the life and works of Robert Chambers Hoppin. Exhibition on display until September 30.
"Big & Small & Abstract & Floral" at Century Center
Friday, August 10, 2018
6:00 PM 9:00 PM
Century Center
Carrboro, NC
Join us this Friday for the opening reception of "Big & Small & Abstract & Floral" by Hillsborough artist Michael Brady. Brady's large oil abstracts as well as his smaller abstractive flower paintings will be on display until September 30th.
2nd Friday at Cameron's
Friday, August 10, 2018
6:00 PM 9:00 PM
Cameron's
Carrboro, NC
Join Cameron's Friday August 10th for the 2nd Friday Artwalk from 6:00pm-9:00pm. For this Artwalk, we will be unveiling our 2019 Poster Calendars including Kate Libby, Elaine O'Neil, Linnea and Janine Moore's Flowers. In celebration, the poster calendars will be 15% off the entire weekend, Friday through Sunday. Why not get a jump start on your holiday shopping?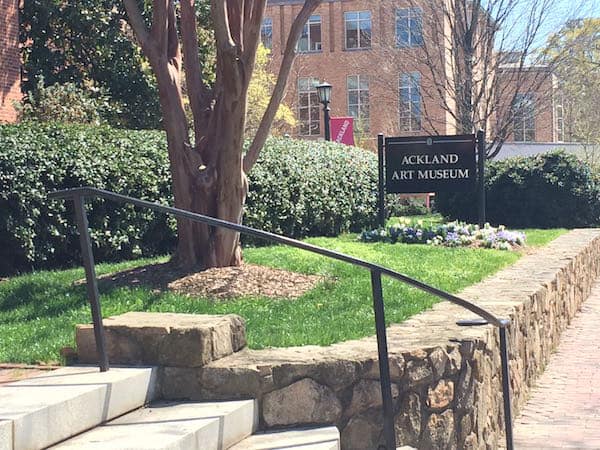 More events coming up in Chapel Hill and Carrboro (plus Hillsborough)
Saturday, August 18, 2018
Sunday, August 19, 2018
Monday, August 20, 2018
Tuesday, August 21, 2018
Wednesday, August 22, 2018
Friday, August 24, 2018