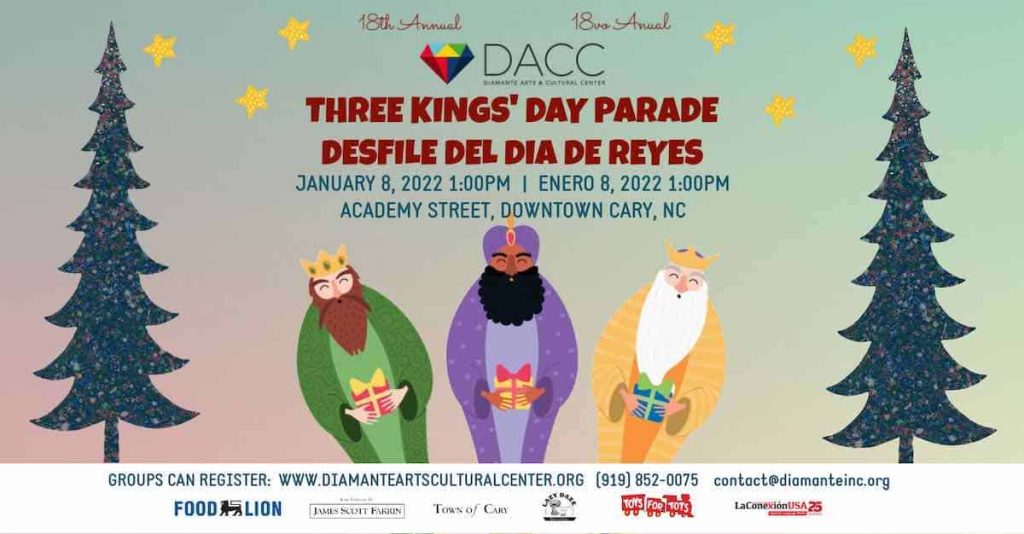 The 18th Annual Dia de los Reyes Parade, or Three Kings Day Parade, will take place on Academy Street in Downtown Cary on Saturday, January 8th, 2022, at 1 p.m.
The parade is presented by Diamante Arts & Cultural Center, a community-grounded, arts and culture organization in North Carolina dedicated to the promotion of the culture, heritage, and artistic expressions of the diverse Latino and Hispanic population in North Carolina.
The parade of individuals, community groups and businesses, walking, driving vehicles or riding on floats, will precede the arrival of the Three Kings.
The celebration will also include music, dancing and food. It will go on until 4 p.m.
Upcoming Events in the Triangle
Check out our
full events calendar
, where you can enter any date, or look at the events for the next few days here:
Sunday, October 2, 2022
Monday, October 3, 2022
Tuesday, October 4, 2022